10" Dominator 1000
The Dominator 1000 incorporates a unique piston design for high performance and reliability especially in Waterwell applications.
This hammer is suitable for a wide range of air pressures. Though its optimum performance is reached at air pressures of 200psi (14 bar) and above. It has been designed with the heaviest piston in its class, (weighing in at 87.6 kg) to provide excellence performance. To assist with maintenance, it has a captive bit ring and a reversible cylinder thus prolonging its life and ultimately reducing costs.
The Dominator 1000 benefits from a one piece top adaptor with N.R.V (Non Return Valve), this makes it easier to maintain and service the hammer.
Air Consumption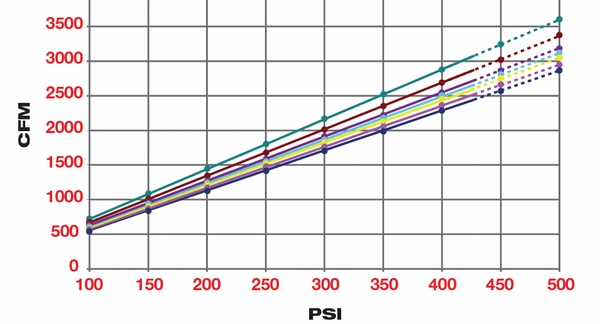 AT A GLANCE

SIZE

SHANK

AIR PRESSURE

254mm - 381mm
10 - 15"

SD10

100 - 435 psi
(7 - 30 bar)
Hammer Overview
Hammer Model
DOM1000
Part Number
600248
Shank
SD10
Thread Connection
6 5/8" API Reg Pin
Minimum Bit Diameter
254mm
Hammer Flat Size
200mm (7.875")
Weight
367 Kg (809 lbs)
Outside Diameter
230mm (9.06")
Length (shoulder to shoulder)
1390mm (54.7")
Minimum Weight On Bit
1500 Kg (3400 lbs)
Maximum Weight On Bit
3500 Kg (7700 lbs)
Parts List
Type
DOM1000
Maintenance Kits
Shank
SD10
Service Kit
Repair Kit
Item
Description
Part No.
SK29
RK50
1
Thread Protector
200112
No
No
2
Circlip
777001
Yes
Yes
3
N.R.V Seat
602286
No
Yes
4
O-Ring
768133
Yes
Yes
5
Non Return Valve
602288
No
Yes
6
N.R.V Spring
760055
Yes
Yes
7
Top Adaptor
603429
No
No
8
Spacer
603432
No
No
9
Cylinder
603434
No
No
10 & 11
O-Ring (2)
768172
Yes
Yes
12
Bleed Plug - Blank
602499
No
No
Bleed Plug - 3mm
602500
No
No
Bleed Plug - 4mm
602501
No
No
Bleed Plug - 5mm
602502
No
No
Bleed Plug - 6mm
602503
No
No
Bleed Plug - 8mm
602874
No
No
13
Piston
603433
No
No
14
Snap Ring
783040
Yes
Yes
15
Bit Retaining Ring
603435
No
Yes
16
Chuck Spacer
603432
Yes
Yes
17
Chuck
603436
No
Yes
Foot Valve
603186
No
Yes