18" Superior 1800
The Superior 1800 has been designed for high performance drilling in medium to hard rock conditions. Design features include a jetted back head and a variable air bleed piston to enable greater up hole velocity.
The Superior 1800 has a drive pin arrangement to prevent metal to metal contact, thereby minimising spline wear and damage,
which can result in a drill bit shank failure.
Air Consumption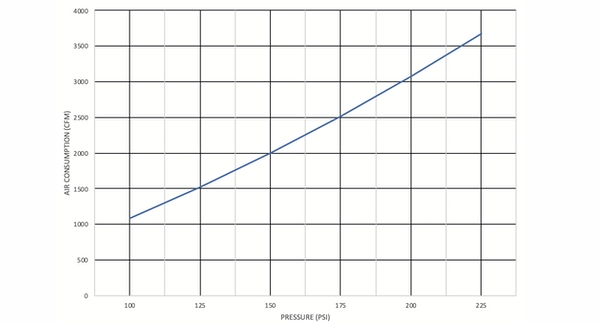 AT A GLANCE

SIZE

SHANK

AIR PRESSURE

457mm - 660mm
11 - 26"

NUMA 180

100 - 435 psi
(7 - 30 bar)
Hammer Overview
Hammer Model
Superior 1800
Part Number
600191
Shank
NUMA 180
Thread Connection
8 5/8" API Reg Pin Up
Hammer Flat Size
C Ring Type
Weight
1600 Kg
Outside Diameter
410mm (16.14")
Length (shoulder to shoulder)
1930mm (75.98")
Minimum Weight On Bit
1600 Kg (3520 lbs)
Maximum Weight On Bit
3500 Kg (7700 lbs)
Parts List
Type
Superior 1800
Maintenance Kits
Shank
NUMA 180
Service Kit
Repair Kit
Item
Description
Part No.
SK
RK
1
Top Adaptor 8-5/8" Pin
605060
No
No
2
Top Adaptor 'O' Ring
768224
Yes
Yes
3
Check Valve
605047
No
Yes
4
Check Valve Spring
760164
Yes
Yes
5
Valve Chest
605048
No
No
6
Compression Buffer
605049
No
Yes
7
Buffer Cover
605050
No
No
8
Tube Holder
605051
No
No
9
Tube Buffers (2)
605052
No
Yes
10
Tube 'O' Ring
768225
Yes
Yes
11
Control Tube
605053
No
No
12
Piston
605054
No
No
13
Cylinder
605055
No
No
14
Bit Retaining Ring
605056
No
Yes
15
Chuck
605057
No
Yes
16
Chuck Bearing
605058
Yes
Yes
17
Breakout Washer
605059
Yes
Yes