2″ Mach 20
The valved design of the Mach 20 provides high performance at low pressure. A non return valve is fitted to prevent flooding when drilling in water.
The Mach 20 has a strong robust design to withstand heavy duty applications. The Mach 20 is fitted with adjustable chokes to give three levels of air volumes for different drilling conditions. The unique drill bit design for Mach 20 does not use foot valve which reduces the possibility of hammer failure. Mach 20 shank has a long service life and reduces contact stresses and wear rates.
Suitable for operation at air pressures of 100 – 250 psi (7 – 17 bar). Drilling diameters of 70 – 76mm (2 3/4 – 3").
Air Consumption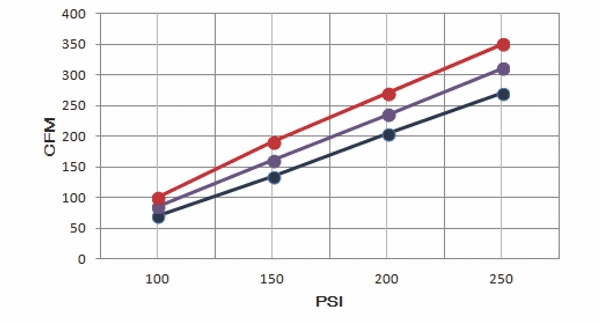 AT A GLANCE

SIZE

SHANK

AIR PRESSURE

70mm - 76mm
2 3/4 - 3"

Halco 2

100 -250 psi
(7 - 17 bar)
Hammer Overview
Hammer Model
Mach 20
Part Number
600169
Shank
Halco 2
Thread Connection
50mm DIN405 6 TPI Box
Minimum Bit Diameter
70mm
Hammer Flat Size
48mm (1.89")
Weight
13.0 Kg (28.6 lbs)
Outside Diameter
62mm (2.44")
Length (shoulder to shoulder)
840mm (33.0")
Parts List
Type
Mach 20
Maintenance Kits
Shank
Halco 2
Service Kit
Repair Kit
Item
Description
Part No.
SK18
RK30
1
Thread Protector
200002
No
No
2
Top Adaptor
602715
No
No
3
Wear-Space (Option)
602726
Yes
Yes
4
Non Return Value
602727
No
Yes
5
N.R.V Spring
760111
Yes
Yes
6
N.R.V Housing
602720
No
No
7
Valve Centraliser
02724
Yes
Yes
8
Valve
602725
Yes
Yes
9
Solid Bleed Plug - Std
732025
Yes
Yes
9a
Bleed Plug - 3mm
602736
Yes
Yes
10
Air Distributor
602719
No
Yes
11
Liner
602717
No
No
12
Cylinder
602714
No
No
13
Piston
602718
No
No
14
Piston Guide Bush
602723
No
No
15
Bottom Spacer
602722
No
Yes
16
Bit Retaining Ring
602721
No
Yes
17
Chuck Lock Ring
602729
Yes
Yes
18
Chuck
602716
No
Yes