3″ Dominator 30
The Dominator 30 hammer is a high performance hammer for medium to hard rock conditions.
This hammer has no internal liner which allows a larger piston diameter for greater blow energy.
The Dominator 30 has fewer parts than other 3 inch hammers in the market, which allows for easy maintenance and servicing.
Air Consumption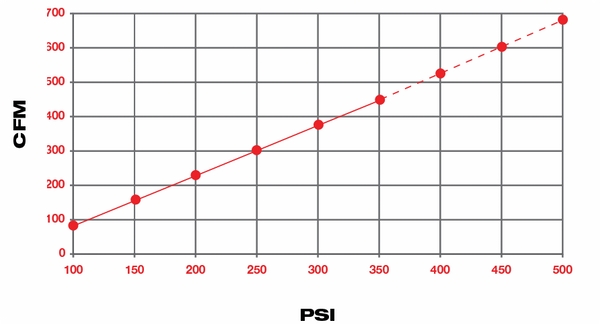 AT A GLANCE

SIZE

SHANK

AIR PRESSURE

90mm - 105mm
3 1/2 - 4 1/8"

IR3.5

100 - 362 psi
(7 - 25 bar)
Hammer Overview
Hammer Model
Dominator 30
Part Number
600424
Shank
IR3.5
Thread Connection
2 3/8" API Reg Pin Up
Minimum Bit Diameter
90 MM
Hammer Flat Size
63MM (2.48")
Weight
23Kg (83.8 Lbs)
Outside Diameter
81mm (3.35")
Length (shoulder to shoulder)
832mm (32.25")
Minimum Weight On Bit
150 Kg (330lbs)
Maximum Weight On Bit
300 Kg (660lbs)
Parts List
Type
Dominator 30
Maintenance Kits
Shank
IR3.5
Service Kit
Repair Kit
Item
Description
Part No.
SK27
RK47
1
Thread Protector
200111
No
No
2
Top Adaptor
602980
No
No
3
O-Ring
768098
Yes
Yes
4
Non Return Valve
602328
No
Yes
5
N.R.V Spring
760100
Yes
Yes
6
N.R.V Housing
602971
No
No
7
Disk Springs
760094
Yes
Yes
8
Thrust Washer
602972
No
No
9
O-Ring
768033
Yes
Yes
10
Air Distributor
603108
No
Yes
11
Washer
602979
No
No
12
Snap Ring
783035
Yes
Yes
13
Piston
603107
No
No
14
Cylinder
602974
No
No
15
Spacer
783036
Yes
Yes
16
Bit Retaining Ring
602976
No
Yes
17
Chuck Spacer
602977
Yes
Yes
18
Chuck
602978
No
Yes
Foot Valve
602922
No
Yes