3″ GP300
Dominator 375 hammer gives up to 25% increase in performance compared to Dominator 350 and Dart 350.
This exceptional hammer is simple, robust and has a high penetration rate. The Dominator 375 has an integral N.R.V. (Non-Return-Valve)
with an adjustable air bleed system to adjust air volume, this hammer has a liner and solid piston design. This hammer has few internal parts which makes on site servicing easy with minimum tools needed. The MD 3.5 shank drill bit can be fitted for improved service life and heavy duty applications. Suitable for operation at air pressures of 100 – 350 psi (7 – 24 bar).Drilling diameters of 95mm – 115mm (3 1/2 – 4 1/8").
Air Consumption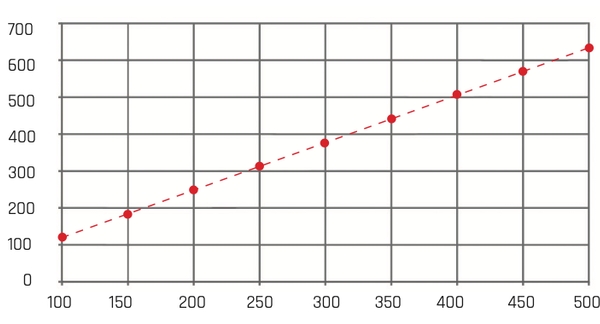 AT A GLANCE

SIZE

SHANK

AIR PRESSURE

95mm - 105mm
3 1/2 - 4 1/8"

MD3.5

100 - 362 psi
(7 - 25 bar)
Hammer Overview
Hammer Model
GP300
Part Number
600393
Shank
MD3.5
Thread Connection
2 3/8" API Reg Pin Up
Minimum Bit Diameter
95mm
Hammer Flat Size
64mm (2.520")
Weight
24 Kg (52.91 lbs)
Outside Diameter
85mm (3.35")
Length (shoulder to shoulder)
885mm (34.84")
Minimum Weight On Bit
150 Kg (330lbs)
Maximum Weight On Bit
300 Kg (660lbs)
Parts List
Type
GP300
Maintenance Kits
Shank
MD3.5
Service Kit
Repair Kit
Item
Description
Part No.
SK64
RK101
1
Thread Protector
200111
No
No
2
Top Adaptor
604371
No
No
3
Choke - Blank
604480
Yes
Yes
Choke - 1/8"
604481
Yes
Yes
Choke - 3/16"
604482
Yes
Yes
4
Non Return Valve
604378
Yes
Yes
5
N.R.V Spring
760154
No
No
6
Make up Shim - 4.9mm
602634
No
Yes
Make up Shim - 5.3mm
602635
No
Yes
Make up Shim - 5.7mm
602636
No
Yes
7
Compression Spring
760107
No
Yes
8
Air Distributor
604461
No
No
9
O-Ring
768099
Yes
Yes
10
Liner
604459
No
No
11
Cylinder
604458
No
No
12
Piston
604460
No
No
13
Snap Ring
783051
Yes
Yes
14
Retaining Ring Band
792040
Yes
Yes
15
Bit Retaining Ring
604457
No
Yes
16
Chuck
604456
No
Yes
Foot Valve
602922
No
Yes