8" Dominator 850
The Dominator 850 has been designed for high performance drilling in hard to medium rock formations, particularly mining applications.
Its class leading performance has been achieved with a larger piston and valveless air cycle providing 50% increase in stroke.
The Dominator 850 has a reversible cylinder for prolonged hammer life and benefits from a one piece top adaptor with N.R.V (Non Return Valve), this makes it easier to maintain and service the hammer.
Air Consumption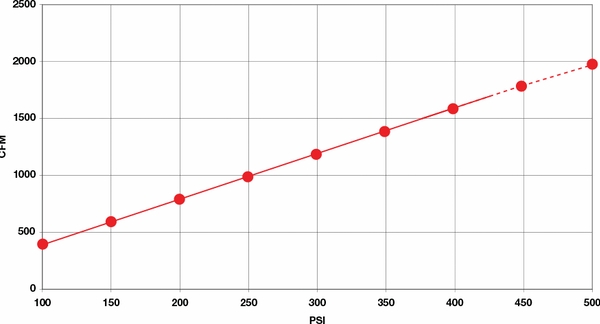 AT A GLANCE

SIZE

SHANK

AIR PRESSURE

222mm - 270mm
8 3/4 - 10 5/8"

QL80

100 - 500 psi
(7 - 35 bar)
Hammer Overview
Hammer Model
DOM850
Part Number
600245
Shank
QL80
Thread Connection
4 1/2" API Reg Pin
Minimum Bit Diameter
222mm
Hammer Flat Size
125mm (6.14")
Weight
180 Kg (396.8 lbs)
Outside Diameter
192mm (7.6")
Length (shoulder to shoulder)
1281mm (50.4")
Minimum Weight On Bit
800 Kg (1760 lbs)
Maximum Weight On Bit
Parts List
Type
DOM850
Maintenance Kits
Shank
QL80
Service Kit
Repair Kit
Item
Description
Part No.
SK32
RK55
1
Thread Protector
207295
No
No
2
Snap Ring
783034
Yes
Yes
3
N.R.V Seat
602887
No
No
4
O-Ring
768150
Yes
Yes
5
Non Return Valve
602285
Yes
Yes
6
N.R.V Cover
603696
No
Yes
8
Top Adaptor
603353
No
No
9
Spacer
603358
No
Yes
10
O-Ring
768169
Yes
Yes
11
Cylinder
603347
No
No
12
Piston
603349
No
No
13
Snap Ring
783039
Yes
Yes
14
O-Ring
768169
Yes
Yes
15
Bit Guide Bush
603360
No
Yes
16
Bit Retaining Ring
603359
No
Yes
17
Chuck Spacer
603358
Yes
Yes
18
Chuck
603357
No
No
Foot Valve
603334
No
Yes