6" Super Dominator 600
The Super Dominator 600 is one of the fastest 6" hammers specifically designed for high production drilling in blast-hole applications.
The Super Dominator 600 is a reduced weight hammer with waterwell drilling capabilities. The unique one piece top-adaptor with N.V.R. (Non-Return-Valve) makes it easy to maintain and service the hammer.
Super Dominator 600 requires only few tools to service and maintain the hammer. Suitable for operation at air pressures of 100 – 500psi (7 – 35bar). Drilling diameters of 152mm – 241mm (6 1/8 – 9 1/2").
Air Consumption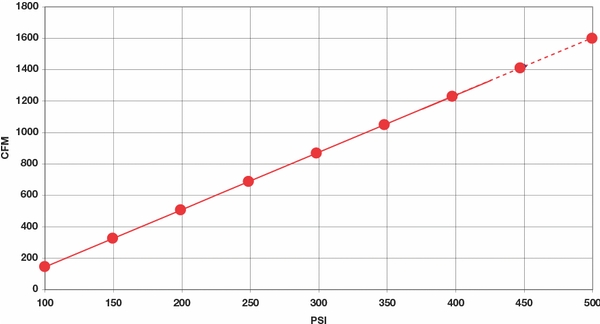 AT A GLANCE

SIZE

SHANK

AIR PRESSURE

152mm - 241mm
6 - 9 1/2

DHD360

100 - 500 psi
7 - 35 bar
Hammer Overview
Hammer Model
SDOM600
Part Number
600272
Shank
DHD360
Thread Connection
3 1/2" API Reg Pin Up
Minimum Bit Diameter
152mm
Hammer Flat Size
101mm (4.0")
Weight
100 Kg (220 lbs)
Outside Diameter
140.0mm (5.511")
Length (shoulder to shoulder)
1139mm (44.8")
Minimum Weight On Bit
500 Kg (1100 lbs)
Maximum Weight On Bit
1500 Kg (3300 lbs)
Parts List
Type
SDOM600
Maintenance Kits
Shank
DHD360
Service Kit
Repair Kit
Item
Description
Part No.
SK
RK
1
Thread Protector
201701
No
No
2
Snap Ring
783050
Yes
Yes
3
N.R.V Seat
603872
No
Yes
4
O-Ring
768112
Yes
Yes
5
Non Return Valve
603554
No
Yes
6
N.R.V Spring
760135
Yes
Yes
7
N.R.V Shield
603652
No
Yes
8
Top Adaptor
603506
No
No
9
O-Ring
768140
Yes
Yes
10
O-Ring
768055
Yes
Yes
11
Cylinder
603584
No
No
12
Piston
602891
No
No
13
Snap Ring
783017
Yes
Yes
14
O-Ring
747105
Yes
Yes
15
Bit Guide Bush
602239
No
Yes
16
Bit Retaining Ring
603749
No
Yes
17
O-Ring
747105
Yes
Yes
18
Chuck Spacer
601942
Yes
Yes
19
Chuck
602495
No
Yes
Foot Valve
601595
No
Yes