6" Mach 60
The Mach 60 is a general purpose hammer suitable for all rock conditions at a wide range of air pressures.
With a proven track record of performance and reliability, the Mach 50 operates at a high frequency which makes it ideal for broken unstable ground conditions.
The hammer is fitted with a reversible cylinder to prolong the service life, it also requires only a few tools to service and maintain.
Air Consumption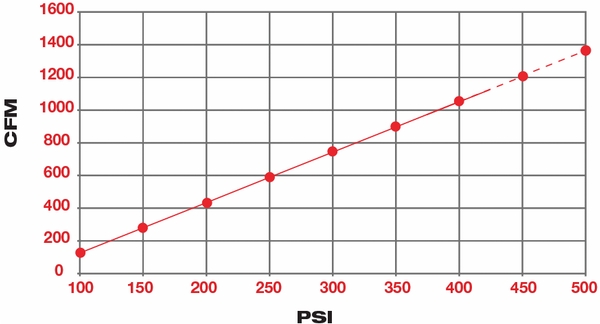 AT A GLANCE

SIZE

SHANK

AIR PRESSURE

152mm - 203mm
6 1/8 - 8"

Halco 6

100 - 435 psi
(7 - 30 bar)
Hammer Overview
Hammer Model
MACH 60
Part Number
600035
Shank
Halco 6
Thread Connection
3 1/2" API Reg Pin Up
Minimum Bit Diameter
152mm
Hammer Flat Size
90mm (3.54")
Weight
89 Kg (196.2 lbs)
Outside Diameter
138mm (5.43")
Length (shoulder to shoulder)
1095mm (3.54")
Minimum Weight On Bit
500 Kg (1100 lbs)
Maximum Weight On Bit
Parts List
Type
MACH 60
Maintenance Kits
Shank
Halco 6
Service Kit
Repair Kit
Item
Description
Part No.
SK07
RK10
1
Thread Protector
201701
No
No
2
Top Adaptor
601555
No
No
3
Non Return Valve
601560
No
Yes
4
N.R.V Spring
760079
Yes
Yes
5
N.R.V Housing
601558
No
No
6
Compression Ring
601562
Yes
Yes
7
Make up Shim - 0.5mm
601590
Yes
Yes
Make up Shim - 1.0mm
601797
Yes
Yes
Make up Shim - 1.5mm
601798
Yes
Yes
8
Air Distributor
601557
No
No
10
O-Ring
768130
Yes
Yes
11
Snap Ring
783012
Yes
No
12
Cylinder
601553
No
No
13
Piston
601554
No
No
14
Snap Ring
783012
Yes
Yes
15
Bottom Spacer
601571
No
Yes
16
Bit Retaining Ring
601573
No
Yes
O-Ring
747105
Yes
Yes
17
Chuck Spacer
601563
Yes
Yes
18
Chuck
601556
No
Yes
Foot Valve
601570
No
Yes